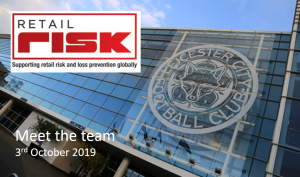 The Facewatch team will be exhibiting at the Retail Week conference in Leicester on 3rd October.
Taking place at the Leicester City Football Club stadium it is a free conference and exhibition for retailers.
To arrange a meeting with Geoff Gritton please email: geoff.gritton@facewatch.co.uk or call him on Mobile 07711 756754
Don't Miss The Biggest Day on The Risk Management Calendar…
Retail Risk – Leicester, followed by the Fraud Awards Gala Dinner the same evening, promises to be an outstanding day of networking, round tables and main stage presentations.
Last year, key decision-makers and influencers from most of Europe's top 250 physical and online retailers attended, making it one of the very best places to meet new business contacts and catch up with old friends. And this year promises an excellent roster of speakers and round table hosts too.
The conference also boasts one of Europe's largest exhibitions of risk management solutions for both physical and online stores, including the rapidly growing area of distribution centre and logistics security. So it is a great place to discover new solutions vital to your business.
If you want to be part of the most eagerly anticipated days on the risk management calendar, it is quick, simple and easy to register.
And remember to bring the whole of your team and others from your organisation whose remit includes the ever-evolving risk management brief.
What makes Retail Risk the world's No 1 Risk and Loss Prevention conference series?
More executives, whose work involves risk and loss prevention, attend our conference series than any other in the world. Here's why…
Be inspired by fresh thinking from international speakers, many of whom only speak at Retail Risk events
Take away case studies of others who have "learnt the hard way" and use their experiences in your business
Free Access All Areas VIP Delegate Passes for retailers, academics and law enforcement personnel
Enjoy unlimited refreshments and a delicious hot lunch at a superb hotel – all complimentary
Vendor numbers are limited, so our delegates don't get overwhelmed by unsolicited sales approaches
Carefully constructed networking opportunities with peers as well as our international experts
Workshops are held under the Chatham House rule, so you can be assured of complete confidentiality
Potential for personal international profile development
Opportunity to participate on future steering committees and influence agenda
International publicity for all speakers through www.retailrisk.com
https://www.facewatch.co.uk/wp-content/uploads/2018/02/fwlogo.png
0
0
Stuart Greenfield
https://www.facewatch.co.uk/wp-content/uploads/2018/02/fwlogo.png
Stuart Greenfield
2019-09-04 13:24:19
2019-09-04 13:24:19
Facewatch exhibit at RETAIL RISK conference and exhibition in Leicester on 3rd October