https://www.facewatch.co.uk/wp-content/uploads/2020/01/Screenshot-2020-01-17-at-12.53.29-1.png
1616
2880
Stuart Greenfield
https://www.facewatch.co.uk/wp-content/uploads/2018/02/fwlogo.png
Stuart Greenfield
2020-01-17 15:40:53
2020-01-22 11:15:16
Facewatch Accredited Partner Scheme launched
SBT are one of the leading providers of technology solutions to the retail sector in Spain and believe that facial recognition as a retail crime deterrent, as in the UK, is an important tool to improve the retail experience for both customers and staff.  With an international customer base and a focus on customer behaviour analysis, shopping experience and loss prevention the adoption of Facewatch the leading AFR system into SBT's portfolio was seen as a natural step.
Jose Alvarez Abad, VP Strategic & Sales, SBT said:
"We have been watching the development of AFR for the retail sector with interest as Spain unfortunately experiences the same type of issues that plague the UK retail sector. As a specialist provider of retail technology, it became apparent that with the current European data laws Facewatch was the product that met all our requirements and gives us the opportunity to run trials with our key clients immediately."
Nick Fisher, CEO, Facewatch Ltd
"Facewatch is fast becoming the standard for retail sector facial recognition in the UK and this has led to huge interest across Europe and the World. In 2016 we launched our first version of Facewatch facial recognition in Brazil and using our real world experience and early adoption of the GDPR privacy principles we have created an incredibly simple and effective system that is fully GDPR compliant.  The opportunity to work with SBT and appoint them as our distributor in Spain is great news for us, as having the opportunity to work with a well-established technology focused partner like SBT allows us to scale in other countries in the knowledge the training, implementation and GDPR compliance will be expertly managed.
SBT company background
SBT is a Spanish company specialising in the analysis, design and implement high technology solutions to the retail market. SBT's clients include Pepe Jeans, Tommy Hilfiger and Pikolinos.
Established in 2017 the business is formed by a group of professionals with a broad experience with the focus on 4 business areas: In-store customers and product behaviour, operations and shopping experience,  security and loss prevention analytics and general retail services.
Facewatch company background:
Facewatch have been providing crime prevention solutions to the retail industry for over 10 years. The business was started by Simon Gordon owner of London's oldest wine bar on the Embankment in London. The Wine bar was a target for pick pockets and bag thieves and he wanted to provide a relaxed and safe environment for his customers. Being technology minded and working with the local police he launched the first ever online crime reporting system including CCTV footage. This led to the launch of the first facial recognition solution in 2017, enabling retailers to deter habitual criminals who were shoplifting, abusing staff or causing criminal damage.
Today the Facewatch system provides a GDPR compliant solution that is easy to install, can be used and managed by small stores and is scalable for use by large retail groups due to its unique cloud-based servers and using Intel® NUC mini PCs. Data is managed securely by Facewatch. Facewatch doesn't store information about the general public, just those for whom their retailer subscribers have uploaded confirmed evidence of criminal activity. If a facial image is not matched to a relevant watch list the algorithmic data is instantly deleted.
Figure 1. Facewatch matches faces against known offenders within seconds of them entering a business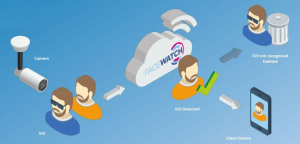 Facewatch solution overview:
Facewatch uses the software-as-a-service technology model, making advanced facial recognition affordable for even small businesses. The company's watchlist of Subjects of Interest (SOI's) is stored securely in the cloud. It's a centralised, managed database of biometric data corresponding to the faces of people who are reasonably suspected of having shoplifted or committed other crimes at businesses that subscribe to the service (Figure 1).
The hardware to run Facewatch is simple to deploy. It includes a standard HD CCTV camera and Intel® NUC, a mini-PC that is only 4×4 inches in size and consumes very little power. Its performance enables it to play and record video at 4K Ultra HD clarity, making it ideal for a facial recognition system. The cameras—placed at store entrances—send an image to an on-site NUC loaded with software that converts the image to an algorithm. The algorithm is compared to those in the Facewatch relevant watchlist for that property and if there is a match an alert—along with an accuracy reading—is sent to the retailer's smartphone or other device, warning it that a known criminal on the watchlist has entered its business.
To add a shoplifter to the watchlist takes only six key presses and about 20 seconds, making it easy for store or security staff, and it doesn't interfere with their normal duties. "They simply follow a dropdown menu, the time and date are automated, tick the box, the whole thing's designed to be simple but highly secure and includes a confirmatory legal statement to ensure that the information is accurate." said Nick Fisher, CEO of Facewatch.The solution does not retain any personal data on anyone not on the watchlist. "If no match is discovered, the image is deleted in 0.3 seconds" Fisher said, "and the entire process—from the moment a known shoplifter comes through the door, to the instant the retailer gets an alert—takes less than two seconds."
For more information:
Smart Business Technologies
Jose Alvarez Abad
VP Strategic & Sales
(+34) 629 844 266
Pº de la Castellana 153
28046 Madrid – Spain
Facewatch
Stuart Greenfield
PRO
T: 07788 662697
E: stuart.greenfield@facewatch.co.uk
www.facewatch.co.uk
/
by Stuart Greenfield
https://www.facewatch.co.uk/wp-content/uploads/2020/01/maremagnum-Spain.png
680
1200
Stuart Greenfield
https://www.facewatch.co.uk/wp-content/uploads/2018/02/fwlogo.png
Stuart Greenfield
2020-01-06 10:14:10
2020-01-06 10:14:10
Facewatch launches in Spain with the appointment of retail technology business leader SBT