Nick Fisher talks about the challenges for retailers and how they are managing crime and violence
If you run a business that's about standing up for individuals privacy rights in a democratic country and rely on creating headline news to encourage people to financially support you, it looks like challenging times ahead. Greater issues such as climate change, famine, racism, crime, immigration, Brexit and of course this awful pandemic will continue to be the headlines for some time to come.
However, if this is your strategy and you hope to attract and engage advocates of your position, it would serve you well to accurately reflect the truth and demonstrate at least some understanding of your subjects' proposition and how it works before potentially playing with people's lives. That is unless your strategy is to purposefully misrepresent the facts, propagate untruths, create sensationalism, or instill fear.
The facts are, Facewatch uses facial recognition to protect employees and business against criminals. Our algorithms are highly accurate, tested frequently by NIST and currently rank as the best in the Western World. Facewatch goes above and beyond GDPR legislation when processing and managing data, implementing self-imposed rules and additional levels of security and transparency beyond legislative requirements. Contrary to incorrect reports, there are no secrets to any Facewatch deployment, clear signage is a mandatory requirement of use. Furthermore, our customers have published testimonials, with all reporting significant reductions in crime, employees feeling safer and no effect whatsoever on footfall.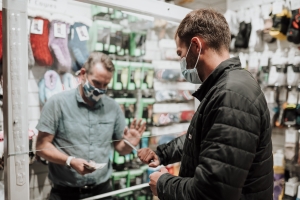 Retail crime is at an all-time high and verbal and violent assaults on employees is the norm, some reports indicating an 80% increase year on year!  Protecting your most valuable asset, your people is an imperative of all responsible retailers. So, while the challenging retail climate exists, deploying facial recognition could quickly evolve from a nice to have to a necessity in the same way as CCTV did before it. The CO-OP must be commended for their pro-action in adopting the latest and some would argue the safest technology that lawfully protects the welfare of their employees and customers alike.
The truth is that there are no privacy concerns from the overwhelming majority of the general public. The interests of the law-abiding individual trumps all or should so in the moral public's perception. It's the sensational, alarmist and misrepresentative narrative repeatedly trotted out by civil liberty groups that aim to cause disruption and concern. This fanciful inference that your data will be secretly recorded and stored, that modern-day algorithms are severely inaccurate and innocent people will be flagged and recorded as criminals is complete nonsense, stated without any evidence and simply designed to cause alarm. Using terms to describe facial recognition as deeply chilling and more associated with the Stasi or dictatorships is an insult to responsible businesses who with complete transparency are aiming to protect the welfare and well being of their employees and customers. All this commentary is given without any insight whatsoever as to how private facial recognition (Facewatch) operates. It would do the civil liberty groups some good to get out of their ivory towers and spend some time in the very environments that Facewatch is deployed. Who knows, it may even lead to them demonstrate some understanding and empathy towards retail employees and the daily challenges they face in modern-day Britain, rather than championing the rights of violent offenders and thieves!
https://www.facewatch.co.uk/wp-content/uploads/2020/12/AG_FACEWATCH_NICKANDOFFICESHOTS-33-scaled.jpg
1707
2560
Stuart Greenfield
https://www.facewatch.co.uk/wp-content/uploads/2018/02/fwlogo.png
Stuart Greenfield
2020-12-21 14:02:30
2020-12-21 15:11:01
Facewatch facial recognition – A Christmas present and future for those working in retail